You know how Oprah has her favorite things?
And then she's like….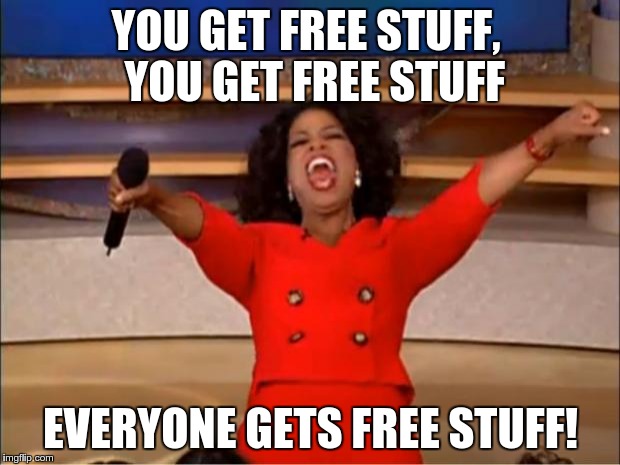 Well, I'm a little Oprah-inspired here, so I'd like to share, with YOU,   some of my favorite things….or "Things to Love."
While I can't promise you they will be hiding under your seat, hopefully they are things that you can have in your life, easily, and enjoy them as much as I do.
Also, my enthusiasm may not wear suits and fling it's arms out wide, but that's only because I have to take a selfie of my own excited face.
SEE……
EXCITED!
10 Things to Love in February
Tea from a teapot. I learned this in England and conveniently forgot it after I'd been back in the states for awhile: tea is ALWAYS better from a teapot. Lately, I've been trying to drink more green tea lately, and making a nice, steamy pot of tea makes me actually want to drink it.
My own candle. No one else's, just mine. To be burnt only when I want, and extinguished only when I want.  My aunt bought me this one, soiree from Park Hill Candles. It's probably the most amazing and fragrant candle ever. Don't touch my candle!
3. Relatives who babysit. Grad school has been super tough lately. It's hard to concentrate for hours at a time on heavy philosophical stuff when your little child is crying and/or needing something and/or scrambling around on the floor, heading for the fireplace. I've had some help this week. Kora has had a blast with her family, and it's been such a blessing to me.
2. The Valentine's Day aisle. I am a Valentine's Day freak. I love it. When I see all the pink and red hearts everywhere, my heart has a panic attack of love.
3.Taking a walk. Good de-stressor. Good way to stay in shape. Good time to talk with friends.
4. Skinny chocolate. Guilt-free, healthy, easy to make. It's a Trim Healthy Mama thing. and there are lots of yummy variations. I'm not even doing Trim Healthy Mama, I just think it's a win-win.
5. Jazz music. Light that special candle, make a pot of tea, put on some Jazz music, and what do you have? You have company in like five minutes because I'm so there. Seriously. We've been playing older and contemporary jazz a ton in this household lately. It makes every night feel special, like a party.
6. Johnny Flynn. Johnny Flynn's music is also on frequent rotation around here. I hadn't heard of him until I watched Song One a few months ago, and "the main singing guy" was my favorite thing about it.  I love his sound, his lyrics and the many emotions his music evokes.
7. Essential Oils I've been using doTERRA essential oils regularly for the past few weeks. I love to have something diffusing pretty much all the time-it really can change how you feel, physically and emotionally. I've got "On Guard" protective blend going on right now-cloves, cardamom, cinnamon, rosemary and eucalyptus. (the baby in this picture is pretty good, too)
10. Family Dinner at the booth. We live in my great-grandparents house. My "mamaw" cooked fried chicken and sugar cookies- you know, standard Mississippi love- on a non-stop basis when they were still around, and fed everybody. They were legendary in their love and hospitality. Our whole extended family has great memories of the kitchen here, and of the built-in wooden booth that is reminiscent of a diner. I usually work on things there, but we haven't eaten dinner at it very much. Well, Kora finally got a high-chair and, since then, we have had dinner every night at the booth. It's been such an awesome bit of quality time together in the evenings.